Getting Ready for GI Fellowship Application
GI for gastroenterology is considered as one of the most competitive fellowships in the country. If you want to become a gastroenterologist you need to take your application process very seriously, otherwise, you may not be able to get yourself enrolled. All the physicians, who are eligible to practice internal medicine are eligible to apply for gI fellowship. Most programs offer a 3 years fellowship in GI, while in others its 4 years. The applications are accepted through ERAS. Applicants are required to submit, GI fellowship personal statement, letters of recommendation, medical school transcripts, and CV. Some programs also ask for USMLE scores, but that is not compulsory for all. In this list, the personal statement is considered as the most important document, which plays a decisive role in your selection. GI fellowship personal statement sample can help you to write a proper statement. However, you are not supposed to copy from these samples.

Top Ranked GI Fellowship Programs to Apply for
If you are interested in GI you must be interested in GI fellowship rankings as well. Try your luck in top-ranked programs, but keep in mind they accept only a few. However, if you can write a powerful gastroenterology personal statement 500 words, you can get a fellowship at one of these programs. Here is the list of best GI fellowship programs.
UCSF: the University of California is ranked at the top for its GI fellowship. Fellows get research opportunities and clinical training.
Penn Medicine: the University of Pennsylvania accepts applications for I fellowship from July 1st. It offers different subspecialties including liver transplant.
Massachusetts General Hospital: To get selected in MGH, fellows must complete USMLE step III when they apply for the fellowship.
Brigham and Women's Hospital: The deadline for fellowship application in this institution is in August but they encourage early completion of applications.
UCLA: UCLA has two tracks for the I fellows, one is the research track and other is clinical track.
John Hopkins: Like many other programs, Hopkins is in the top 10 programs for GI. Clinical scholar, clinical investigator or physician-scientist, you can choose any one of these tracks.
Duke University: You can enroll yourself for three years of GI fellowship at Duke University. They offer many subspecialties as well.
Columbia University: Like many other programs, Columbia University also offers three years fellowship in GI.
Mount Sinai Hospital: MSH is a top-ranked placed for GI fellowship. This three-year program is accredited with the authorized department.
BIDMC: The hospital is well known to people who are interested in I fellowship. Offers some great research opportunities for GI fellows.

GI Fellowship Personal Statement Requirements
When we talk about gastroenterology personal statement, you are not supposed to narrate a long story to convince the selection committee. Length of the statement is very important. Follow the ERAS personal statement length criteria. ERAS allows 5200 words, but that is really long, and no one will read such a long story. The selection committee reviews your personal statement in a few seconds, so keep it very brief and precise. Like the residency personal statement length, it should not be more than a page. Some experts allow writing one and a half page, while others ask to limit yourself to one page only. Some others prefer personal statement 500 words only. So, keep it as brief as possible.
If you are applying for more than one program, write a new statement for each program. For instance, for pediatric GI fellowship program get information about the research interests of that particular institution and write your statement with a keen interest in those research areas. Similarly, you can tailor your personal statement for different subspecialties and programs.
What to Avoid in Your GI Fellowship Personal Statement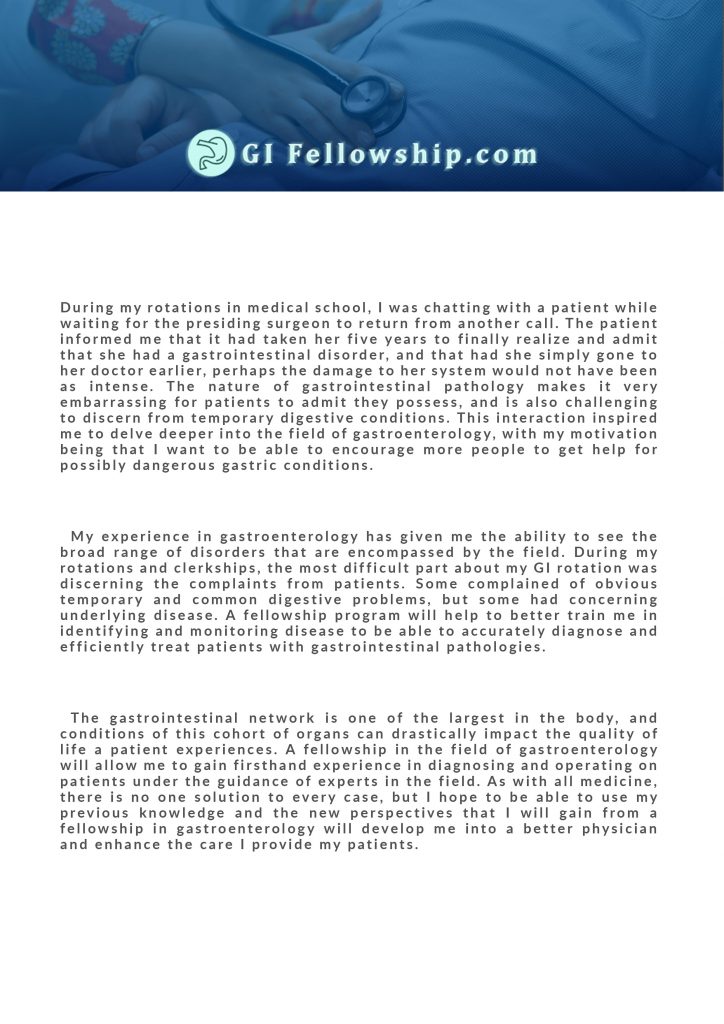 If you are interested in GI, you must know how hard it is to get into GI. However, if you write a personal statement, you can easily get your fellowship. Here are few things, which you must avoid in your personal statement.
When you are preparing for GI fellowship, don't keep personal statement at the end of the list. Rather you should start writing it as soon as possible.
Keep an eye on fellowship personal statement word count. No one wants to read a long story. So, the ERAS personal statement length should not be more than a page.
Don't repeat your academic particulars which are already mentioned in your CV.
gastroenterology fellowship personal statement examples can provide you guidance, but don't copy. Make sure that each word you have written in the original.
Don't compare a program with the other program you are applying to.
5 Rules for A Winning GI Fellowship Application
You may have no ideas about how to write a gastroenterology personal statement. You can see the samples for help. Here are some rules, which can help you to write a winning statement.
Be honest: You have to be very honest. You can narrate your story in an interesting way, but don't tell lies.
Answer all questions: If the website of the program asks some questions, make sure you answer all of them very precisely.
Focus: Focus on the specialty. For instance, for GI pathology fellowship personal statement, you have to mention why you like it and how it can affect your future in a positive way.
Mention your abilities and skills: study GI fellowship match statistics and find out about the successful candidates. Focus on those skills and qualities which the selection committee prefers.
Edit and proofread: gastroenterology fellowship IMG must edit and proofread their personal statement.
GI fellowship personal statement is a secret weapon for your success. Use it wisely.